Video Submission Instructions
BACHELOR PAD 3
VIDEO SUBMISSION INSTRUCTIONS
Your video should be no more then 2 minutes in length.   The bottom line is, personality is key! Have fun!
GENERAL INFO:
1. Video Formats Accepted:
avi (AVI Video)
mov (QuickTime Movie)
mpg, mpeg (MPEG Video)
mp4 (MPEG-4 Video)
flv (Flash Video)
Files must be 50MB or smaller!
2. Be aware of lighting—no shadows on your face please.
3. Stand in front of a colorful background so you don't appear washed out. White walls do not work well.  Feel free to take the camera out and about with you and tape in a different location – we want to get a little glimpse of your life!
4. Be aware of any background noises – turn off the TV, radio, air conditioning, ceiling fans or heating units as this will create a hum or buzz. If you tape outside be aware those elements as well, wind, traffic, sunlight etc.
5. Dress nicely. No hats or sunglasses.
6. Do not chew gum.
7. Make sure you are framed properly. A medium close-up shot is from just below the waist to just above the head, like this: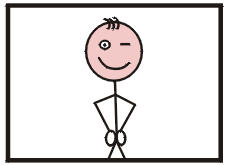 ***Do one close-up shot and one full-length shot somewhere in your video.
CONTENT (these are suggestions – be creative and have fun with this! Let your personality shine through. If there is something you'd like to tell us that we haven't asked, tell us!
1. Introduce yourself, tell us your name, age, where you're from and what you do for a living. Where do you live? Do you rent/own? Do you have roommates? What do you do for fun, etc.?
2. Why do you want to be on Bachelor Pad?  Which past cast members do you want to meet on the show, and why?  Who do you NOT want to meet on the show, and why?
3. Which past cast members do you think you can beat (or outsmart) on Bachelor Pad?  Why?
4. What type of challenges are you the best at?  (E.G. Athletics, brain-teasers, kissing contest, trust games, etc.)
5. What is your strategy for winning Bachelor Pad ($250,000)?  Why do you need the $250,000?   Tell us your story.  How important is the money to you?  Why?
6. Do you have any special talents?  If there is a hobby or activity you like, show us.